An African mission for the churches of South Norfolk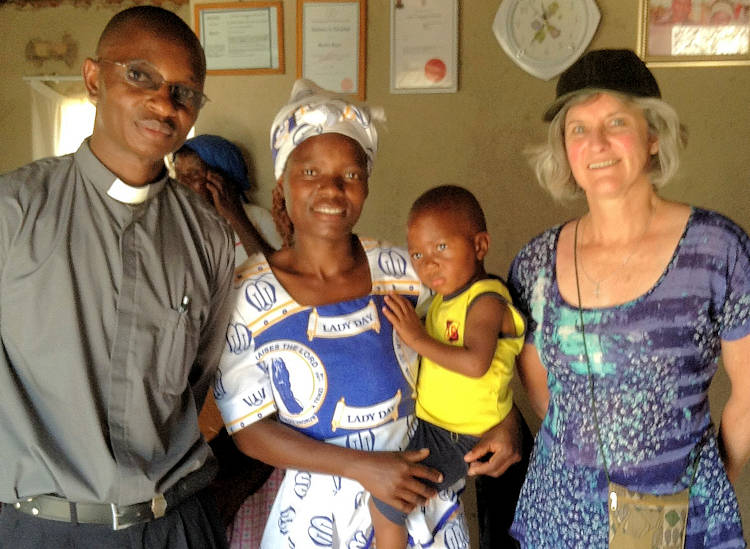 An empowerment mission for a struggling community in Zimbabwe immediately struck a chord with Carolyn Skittrall who supports several churches in South Norfolk to bring change and growth through hands-on initiative and insight. Sandie Shirley reports.
---
Carolyn's homeland is Zimbabwe; she knew the depths of poverty and the heights of prosperity and yearned to be involved in a mission to alleviate suffering and injustice, but no door opened until she moved to England 28 years ago.
When she joined the Upper Tas Valley Benefice in her neighborhood, she learned about her strong historical connection to a church mission in Africa.
"I knew it wasn't a coincidence; I had a knowledge of the country and its unique challenges and difficulties and this could not be ignored as God put us here to be their family, "says Carolyn, an effective link between the churches of Norfolk and Africa, who helps to raise awareness and rally Support.
The International Mission was established by Reverend James Hay Upcher almost 125 years ago and was named All Saints Wreningham because his father was Rector of Wreningham and Ashwellthorpe.
Church keeper and treasurer Christine Minns (pictured right), born next to Wreningham Church and who has been a member of her CPC for 45 years, has seen a renewed heart for the Anglican mission in Africa. This happened over 30 years ago when the great niece of James Hay Upcher from Sheringham approached the church to sensitize them to the ongoing mission in Zimbabwe and its needs, Christine says.
As a result, the profit helped fund a new primary school and a new church (a delegation from Norfolk attended the church's dedication service in 1997) and continues to ease hardship with encouragement and funds for a community. which includes orphans and subsistence farmers.
The support helps to improve living standards, education and health where death rates are high; disease, including AIDS, Covid and malnutrition is evident, and basic needs are often not met.
But his quest is also to bring empowerment to a country where there is unimaginable runaway inflation and a failing health service.
The mission near the village of Chivhu has been strengthened through continued communication and reciprocal visits, including the arrival of Bishop Godfrey Tawonezvi in ​​2013 who led a church service in Wreningham celebrating international associations.
Carolyn visited four years ago and met Archdeacon Tapiwa Chatikobo, his wife Obvious and his family after their growing communication. Over the years, she has helped forge beneficial bonds with various new and changing priests. Friendships were developed by exchanging letters, packages, phone calls and WhatsApp messages.
His visit highlighted the grim realities as the political situation continues to hamper welfare and reforms for the poor and marginalized.
Many parents, including some teachers, cannot afford school fees or uniforms, so children are denied an education, thus perpetuating the cycle of poverty. School resources are scarce and obsolete; the books are torn, faded and fragile.
With transportation non-existent, children travel miles in the dust and heat to attend class while the new curriculum is impossible to implement without expensive modern technology.
Reverend Watson Mapurazini and his family joined the mission as a new priest just after Covid struck last year. Her modest salary doesn't cover basic needs, let alone postage and internet for a cell phone, says Carolyn, who has helped raise finances to cover living expenses. In recognition of his supportive bond, Watson and his wife Esther named their fourth child in Carolyn's honor.
There is still a dire need and high hopes for solar panels, running water, electricity, repairs and school resources, including a vegetable garden so that children can eat the produce and learn gardening.
"But with God's resources, we can find a way to make a difference and work with them to see their potential, achieve their goals and see them rise above their situation," says Carolyn, who plans a future visit.
A fundraising morning will be held on September 18, 10:30 a.m. to 12:00 p.m. at All Saints Church, Ashwellthorpe.
For more information, e-mail: [email protected]
www.masvingo.anglican.org
Pictured above, Carolyn Skittrall in Zimbabwe with Archdeacon Tapiwa Chatikobo, his wife Obvious and their son.