Appraiser-clerk-archivist candidate facing two IRS liens – Palo Alto Daily Post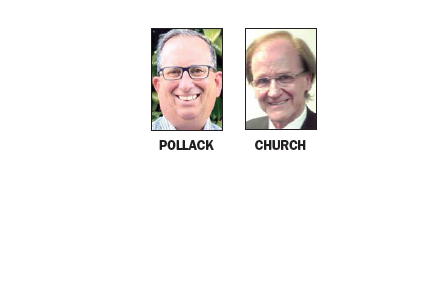 BY EMILY MIBACH
Daily Post Editor
A candidate for San Mateo County Assessor, County Clerk and Chief Electoral Officer has two IRS liens on his property, according to public records.
David Pollack, a San Carlos resident and substitute teacher who challenges incumbent Mark Church, was slapped with liens in 2019, according to documents filed in Church's office.
The liens totaled $12,965 related to his 2015 and 2017 taxes, according to the lien notice.
Pollack said in an interview that Privileges was born during his time as a tech professional, which included being an angel investor. Some of the startups he invested in weren't successful.
"I owe back taxes and I'm paying them back," Pollack told the Post.
Some of Church's supporters also questioned why Pollack tried to defer payment of the $10,200 candidate declaration fee. The statement appears in the Official Voter's Guide.
A substitute teacher
Pollack is currently a substitute teacher for a handful of school districts in San Mateo County, and considering the salary for that job, he registered as indigent and filed paperwork to defer fees.
"Every dollar for (yard) sign the better, and since I was eligible, why not apply?" said Pollack. "But maybe I was naïve in giving all this information."
Pollack also pointed out that it's easy for his opponent to throw rocks because Church, a retired lawyer, is able to fund his own campaign.
His latest April campaign finance form shows he loaned his campaign $30,000.
"He is self-funded and lives in Hillsborough. I'm a tenant in San Carlos trying to make ends meet," Pollack said.
Transparency, accountability
Pollack said he shows up to make sure the office is transparent, accountable and professional. The job pays $236,000 a year.
The biggest issue facing the Clerk Assessor and Chief Elections Office is professional management, Pollack said. He said he's heard complaints from employees about the management style under Church.
Pollack also wants to make it easier for applicants to apply, commenting that there hasn't been a one-stop shop online for applicants to upload documents.
Pollack was in favor of Prop. 15, which would have created a "split roll" system for property taxes, increasing taxes on commercial properties while keeping residential properties under the same system of Prop. 13.
Church opposed Prop. 15, saying the change would be a "heavyweight" for his office.
Whoever gets more than 50% in next week's election wins.