Catholics: Stop spending ungodly sums on weddings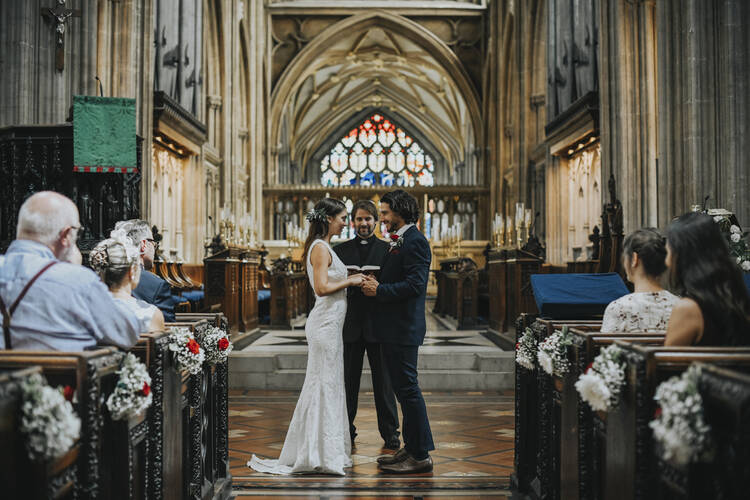 Wedding season is upon us once again, and despite the economic uncertainty caused by the Covid-19 pandemic, one estimate puts the average cost of a wedding in the United States at $28,000. The perfectly staged photos of various stunning weddings on social media make it easy to forget that the financial cost of receiving the sacrament of marriage is technically at least $0.
I've never had $28,000 to spend on a party, and even if I did, the thought of spending it on a wedding reception makes me break into an anxious sweat. Maybe I'm just missing the feminine gene that covets Etsy's bespoke candles, elaborate centerpieces, and yard-long tulle wedding veils? Maybe, but I can't help but think that something has gone wrong with the culture of marriage and the marriages it produces.
Huge and expensive weddings become an impossible expectation for most people.
Catholic priests are more intimately involved in the distribution of this sacrament than clergy of other denominations, from marriage preparation classes to the big day itself. They have a potentially heroic opportunity to remind couples that there is something powerful and valuable to be found in marriage unrelated to the cost of marriage.
Huge and expensive weddings become an impossible expectation for most people. I suspect that some couples think more about their dream wedding than the wedding that will follow it. For example, a close friend used to ask me for my opinion on what elements she was planning to include in her dream wedding before she even met her husband. When he finally came into her life, he had to bow to his fantasy and had to remind her that this was her wedding too.
I know many men, in particular, who put off marriage because of the expense of marriage. I also know of a couple who took out a loan to fund their wedding, only for the debt to survive the wedding itself. This is what happens when we think more of the party than of the institution.
Even if the priests feel that a couple is losing sight of the essential, do they fear that a slight correction will drive two more young people out of the church?
In the United States, couples are getting married later and later (the median age of a first marriage is now 30 for men and 29 for women), often after having switched to cohabitation, or not having married at all. The pressure to have the perfect wedding, with perfectly staged photos for social media, can be a factor.
Priests could remind couples getting married in church that something intimate, deep and spiritually essential is lost amid $28,000 of wants rather than needs. Admittedly, this is a delicate subject to broach: even if the priests feel that a couple is losing sight of the essential, are they afraid that a slight correction will chase two more young people from the church?
But curbing this fad of excess could be revolutionary for those with less means, including young people feeling the post-Covid economic downturn and the burden of student loans. Marriage preparation classes are one way to do this, but only if priests are bold enough to bring up the subject – do they even realize what marriages have become? – and couples are wise enough to listen.
Some priests may still think that the amount couples spend on their weddings is none of their business, but marriage is not just for the couple. It involves the whole parish community. There may be members of this community who, seeing marriages become exorbitant spectacles, are tempted to delay their marriages until they achieve better financial standing. It may seem counterintuitive, but it could make them worse. A recent report revealed that poor married people experience a more stable relationship than rich single people.
As for me, my ideal wedding would be an early evening candlelit church ceremony attended only by family and close friends, followed by a modest dinner. If I were to spend a large sum on a wedding, I think I would be too concerned about my guests having a good time to enjoy the wedding myself. A wedding is not meant to be a show or entertainment for onlookers. Sweet reminders from the priests of what's really important on the wedding day might be just what's needed to get the wedding back on track.