John J. "Jack" Sheahan | Webster Kirkwood Times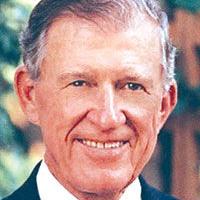 Sheahan, John J. "Jack". Fortified with the sacraments of the Holy Mother Church on November 16, 2021. He was for 65 years the beloved husband of the late Dorothy J. Sheahan (née Cook); beloved father of Linda Sheahan, Sharon (Steve) Bachman, Mary Pat Sheahan, Dorothy (Pat) Tupa, Kathy (Jim) Strohmeyer, Julie (Tony) Leon, John, Jr. (Bridget) and Paul (Lori); and grandfather at 11.
He is survived by his sisters-in-law Marian Burkhardt and Elizabeth A. Cook. He was predeceased by his brother Andrew E. Sheahan (Bettie); Sister Emma Marie Sheahan; Brother William T. Sheahan (Patti); Brother Timothy D. Sheahan (Hélène); and brothers-in-law Paul E. Cook and Brookes Burkhardt. He was the beloved uncle of several nieces and nephews.
Jack was born March 7, 1925 to Andrew T. and Hanora M. Sheahan in Arcadia, Missouri. He graduated from Chaminade College Preparatory in 1942. Jack enlisted in World War II and served in the United States Army as Private First Class with 1st Special Troops Headquarters, XXXVI Corps from November 2, 1943 to 6 September 1945. He then attended Washington University and graduated in 1949 with a business degree.
Jack married Dorothy J. Cook, daughter of the late Paul W. and Adele F. Cook, on June 10, 1950. He worked for Laclede Bond & Mortgage Company from 1949 to 1955. Jack co-founded the Sheahan Investment Company in 1955 with his brother, Andy, and was later joined by his brother, Bill. They sold their business to Clayton Savings & Loan, which was run by their brother, Tim, in 1982 – the company then became Sheahan Financial Company. Jack continued as a mortgage banker with the company until his retirement in 1990. After a brief retirement, he and Andy returned to working independently as a mortgage banker focusing on construction loans. . Jack retired in 2005. During his career, he was the first president of the Mortgage Bankers Association of Missouri from 1976 to 1978 when the organization was formed. Jack was also president of the Mortgage Bankers Association of St. Louis from 1974 to 1976 and a member of the North County Landmark Bank Board.
Jack and Dorothy were members of the Westborough Country Club for 43 years, where they played their favorite sport, golf. He then served as president of the St. Louis District Men's Golf Association. Jack and Dorothy made many lifelong friendships and many happy memories of Westborough. They had both been members of the Church of the Annunciation since 1953. Jack and Dorothy moved to Webster Groves where they spent most of their married life in the house they built in 1953. Jack will be remembered for for his kindness, integrity, easy manners and dedication to his wife, children and siblings.
Services: There will be a Memorial Mass at the Annunciation Church at 12 W. Glendale Road in Webster Groves on November 27, 2021 at 10 am. William Sheahan, SJ will concelebrate with Fr. Mike Esswein. Interment in the cemetery of the Resurrection. A visit will precede mass from 9 a.m. to 10 a.m. In lieu of flowers, contributions can be made to Chaminade College Preparatory or a charity of your choice. Arrangements from the Bopp Chapel.