Joseph J. Donohue | The Altamont company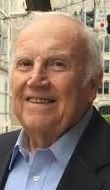 GUILDERLAND – Patriot and father Joseph J. Donohue passed away peacefully at his home in Guilderland on Monday, May 31, 2021. He was 86 years old.
"Joe's passing marks the culmination of a long and happy life underscored by his deep love for family, his commitment to his Irish faith and heritage, and a deep sense of patriotism to his country," his family wrote in a tribute.
He was born on December 3, 1934, the seventh of 10 children to Mary and Francis Donohue.
"The Donohue clan was raised in a bustling, noisy home on Cardinal Avenue, and Joe quickly established himself on the athletic field," his family wrote. "He was captain of the Vincentian Institute football team, a distinction for which he would later be inducted into the Albany County Catholic High School Hall of Fame.
"As impressive as his sporting exploits are, his tenure VI was most notable for his success in winning the hearts of his classmate, Patricia Toolan. Pat and Joe married in 1958 and lived in a 61-year marriage, which lasted until Pat passed away in 2019.
"Joe's courtship with Pat, however, was interrupted by his enlistment in the United States Army. He proudly served his country for three years before returning home to earn his finance degree from Siena College and start a new chapter with his beloved Pat.
"Joe and Pat have built a wonderful life together. They took root in Guilderland, where they raised their seven children and were active members of Christ the King Parish and the community of Guilderland.
"Joe also had a successful career in the financial industry, highlighted by a long tenure at Merrill Lynch before ending his career at Prudential Securities.
"Although his busy family and career took up most of his time, Joe has never been happier than when he was tucked away with a history book. He was renowned for his expertise in both the history of Albany and the Civil War. In his later years, Joe served on the board of directors of the Guilderland Historical Society and devoted himself to the preservation of local monuments and the lasting legacy of the founding of the city.
****
Joseph J. Donohue is survived by his children: Colleen, Kelly (Terry Hanratty), Christine (David Finkelstein), Joseph Jr., Karen (Robert Wiedenhoft), Mary Anne (John LaMontagne) and Kerry (William Ziegler).
Her grandchildren are: Kyra Donohue; Conor and Erin Hanratty; Andrew and Jillian Finkelstein; Katherine, Christine and Carolyn Wiedenhoft; and Anna and Emily LaMontagne. He was the brother of William, Jeannine, Grace, Ed and the late Jack, Tom, Francis, Mary Lou and Lorraine.
Friends and family are invited to pay their respects on Friday, June 4, from 4 p.m. to 7 p.m. at the Daniel Keenan Funeral Home at 490 Delaware Avenue in Albany. A funeral mass will be celebrated on Saturday June 5 at 10 a.m. at Christ the King Church at 20 Sumter Avenue in Westmere. Interment will take place in private.
Memorial messages can be left at www.altamontenterprise.com/milestones.
Memorial contributions can be made to Christ the King Church, 20 Sumter Ave, Albany, NY 12203.