More than a memory: commemorative scholarships help JPC elders | Jamestown News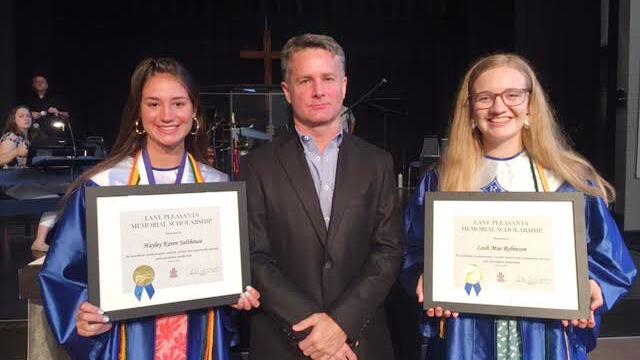 It is natural, when people pass away, that their memories continue to live on in the hearts of those close to them. The memory of Lane Pleasants, however, runs much deeper.
Daughter of Bill and Clarajo Pleasants, Lane lost her life in 1999 following a lung transplant in a courageous battle with cystic fibrosis. She has been a long-time resident of Jamestown and an active member of the Jamestown community and Presbyterian Church.
After his death, the Pleasants family and Jamestown Presbyterian Church Session established a scholarship from commemorative contributions. Since its inception, 33 senior JPC graduates have received college scholarships that not only honor Lane's memory, but also help the recipients embark on a path to their future career goals.
"Our daughter's scholarship has enabled Presbyterian Church in Jamestown to recognize and financially assist some of the brightest and most gifted young people in our church and community," said Bill. "It was such a joy to hear about their many outstanding accomplishments during their college studies and throughout their careers."
For more than two decades, the scholarships have helped create employees for a variety of jobs, including a pediatric speech-language pathologist, researcher for Pfizer Pharmaceuticals in commercial gene therapy, and Air Force pilot after graduating from the Air Force Academy, Epidemiologist at the Center for Disease Control, Accountant with Consulting Firm, Christian Educator and Director of Independent Living, Nurse, Second Generation McDonalds Owner / Operator, Teacher, Strategy and Planning Group Leader at Cisco, two Peace Corps volunteers, medical coordinator with Operation Smile, lawyer serving as public advocate, planner for the regional out-of-state transportation district, and an entrepreneur with a master's degree in business working with a large business.
This year's Lane Pleasants scholarship recipients have already set their goals high.
Leah Robinson plans to attend James Madison University or the University of North Carolina at Charlotte to pursue a Bachelor of Arts in Psychology and a Minor in Religious Studies or Pre-Theology. She wishes to continue her studies in a seminary to become an ordained pastor.
Hayley Salthouse is interested in attending Wake Forest University or the University of North Carolina at Chapel Hill for a finance degree. His career plans include working as a financial analyst or investment coach.
Leah is the daughter of Ben and Rebecca Robinson from Jamestown. A graduate of Ragsdale High School, she was a member of the National Honor Society, Beta Club, Service-Learning Club, Art Club, and Tiger Guides. She obtained the Service-Learning diploma, which requires more than 250 hours of service. A competitive dancer for years, she was also involved in her school dance program.
As a member of YPC, she was active in the youth group, participating in many service projects, was the youth representative on the Associate Pastors Nominating Committee, and volunteered at the Vacation Bible School. She was also a member of Youth for Christ and rose to the rank of Girl Scout Ambassador, winning her silver and gold awards.
The daughter of Jim and Karen Salthouse of Greensboro, Hayley also graduated from Ragsdale, where she served as her class. She was a member of the National Honor Society, Beta Club, Hope Club, Spirit Club and Human Relations with Students. Hayley participated in student government and served as a peer tutor. She received certification in Microsoft Word and PowerPoint. Appointed an AP Fellow, she was a NC State University Park Fellow and a semi-finalist for the Morehead-Cain Fellowship.
She competed in swimming competitions in the United States and was part of the school's swimming and tennis teams and was recognized as a varsity athlete. Hayley swam and helped coach a summer swim team, winning several awards there.
Outside of school, she attended a five-month webinar series called Finances for the Future. His invitation to study abroad in Germany was canceled due to the pandemic.
At church, Hayley was active in the youth group and attended the high school Bible study on Monday evening. She volunteered for Urban Ministries, donated food to the church pantry, and helped pack boxes of food.
She volunteered for a boarding school ball in Alaska that was sponsored by Alaska Airlines and then collected some used ball gowns to send back to high school there. She also organized a fundraiser using the money to buy meals at local restaurants to give to doctors and night nurses.
Both graduates received Lane Pleasants scholarships during the June 6 morning worship service at JPC.
"Lane would be delighted to know that the endowment fund and generous donations have made it possible to continue this scholarship for 22 years," said her brother Jim, who presented the 2021 awards. "She would be especially proud to know that including this year, a total of $ 66,000 in scholarships was awarded to the youth of this church. "
Contributions to the Lane Pleasants Memorial Scholarship can be made by check to the Presbyterian Church in Jamestown, which is earmarked for the Pleasants Memorial Fund. Mail to the church at 1804 Guilford College Road, Jamestown NC 27282.
For more information on the scholarship, contact the church at 336-454-3718.