Ruby A. (Wieland) Arndt | Daily News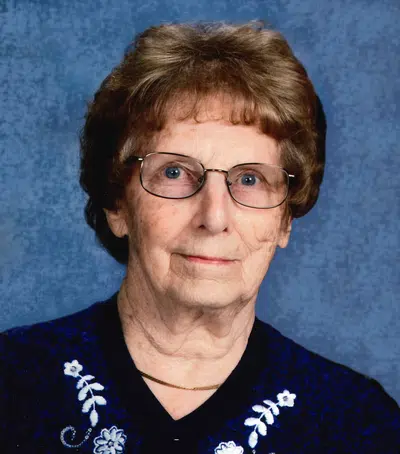 Ruby A. Arndt, 90 from Tigerton, passed away on Tuesday, November 30, 2021 at Willow Brooke Point Senior Living, Stevens Point.
Former Ruby Ann Wieland was born on November 13, 1931 in Wittenberg to Ernest and Ruth (Wichmann) Wieland. She graduated from Wittenberg High School in 1951. Ruby married Arnold W. Arndt on June 16, 1951 at St. Paul's Lutheran Church in Wittenberg. The couple operated a dairy farm in the town of Germania, Shawano County, for more than 25 years. Ruby worked alongside her husband helping him on the farm or in his logging business for many years. Ruby and Arnold moved to town in 2011.
Ruby was a long-time member of St. John's Lutheran Church in Tigerton, where she served with the Altars Guild, the Finance Committee, and the Funeral Circle. She enjoyed being a part of the church quilting group and volunteering at the Bethesda Thrift Store. Ruby enjoyed fishing, sewing, cooking, working in her garden, and looking after her grandchildren. She will be remembered above all as a devoted wife, a loving mother, and a proud grandmother and great-grandmother.
Survivors include her 70-year-old husband Arnold; one daughter, Charlotte Schulist; three grandchildren, Angela Hahn, Eric (Megan) Schulist and Suzanne Schulist; and four great-grandchildren, Logan Hahn, Tenley Hahn, Clara Schulist and Lauren Schulist. There are seven siblings, Joan (Howard) Curtis, Patricia Seefeldt, Betty Rogers, Doreen (Warren) Lynch, Katherine Wieland, Margaret (Emil) Sume and Everett (Tammy) Wieland. She is also survived by several nieces, nephews, other relatives and friends.
Ruby was predeceased by her parents; one son, Robert Arndt; one son-in-law, Richard Schulist; three sisters, Janet Ostrowski, Norma Lehman and Elsie Croft; three brothers, Christian, Roger and Wallace Wieland; and three brothers-in-law, Rupert Ostrowski, Martin Lehman Jr. and John Seefeldt.
The funeral will be on Saturday December 4the at 12 noon at St. John's Lutheran Church, Tigerton. Reverend Dean Suehring will officiate and interment will follow at Union Cemetery, Tigerton. Visitations will be on Saturdays from 11:00 a.m. until church service time. Instead of flowers, memorials are preferred at St. John's Lutheran Church.
Beil-Didier Funeral Home, Tigerton, is helping the family. Go to www.beil-didier.com to sign the online guestbook or to send a card.