What an Italian Jesuit (and Georgetown's " Second Founder ") Said About Democracy and Religious Freedom in America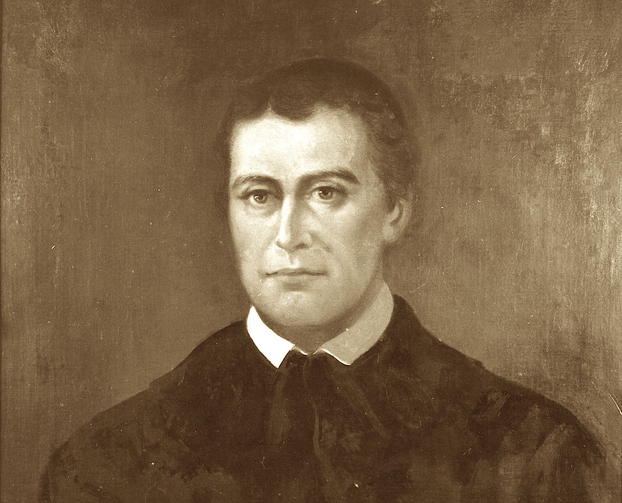 In 1818, Giovanni Grassi, SJ, published the first of three Italian language editions of a pamphlet of his observations on the United States. Second founder of Georgetown presents the first English translation of his reflections based on his seven years of residency in Washington. This college administrator shared with Italian readers his observations and assessments of the young republic to explain various new concepts, such as democratic autonomy and freedom of religion. Father Grassi believed that Stati Uniti offered many opportunities for enterprising immigrants to the Italian peninsula to achieve financial success. It included a series of statistics and business facts, as well as pungent comments on the American character, themes that later European visitors developed at greater length.
This slim volume saves from obscurity the perspective of an immigrant published nearly two decades before Alexis de Tocqueville's best-known classic, Democracy in America.
Father Grassi (1775-1849) was born in Schilpario, north-east of Milan, entered the diocesan seminary of Bergamo and at the age of 24 he joined the slowly reviving Society of Jesus, which had been suppressed in 1773. His Jesuit superiors sent him to Paris for in-depth training in mathematics and science. Originally scheduled for an assignment in China, Father Grassi was instead sent to be the Provincial Superior of the Jesuits of Maryland in 1810 through a backdoor process by the Superior General. A year later, he was named president of the struggling Georgetown College.
Father Grassi's tenure as head of the little school in the Potomac may have inspired the publisher of the book to concoct the odd title for this far-reaching translation. While mentioning in passing the humble academy which he directed, Father Grassi concentrated his observations more broadly on three main subjects. He began with "News on the current state of the Republic", continued with comments on "the various sects that exist in the United States" and concluded with his thoughts on "the current state of the Catholic religion" in the young nation. A two-page table of "All the remarkable things to discover in the geography of the United States in North America" has also been inserted. He listed, among other topics, the size of each state, products, minerals, population, major cities, universities and colleges, and the total number of members of his delegation to Congress.
The people of New England were the most money conscious, Father Grassi wrote, and were "considered the most cunning and intelligent, capable of ingenious deceptions."
Father Grassi opened his volume with "experiences that an Italian would find worthy of mention". He reviewed the climate and soil of the nation, products and commerce, people, character and customs, literature and government. This first section is full of facts that are suitable for an almanac. The size of the nation amazed him when he compared its population density with European nations, citing census figures which revealed 3,884,605 ​​inhabitants in 1790 and 7,239,903 in 1803. Due to immigration and a thriving economy, he predicted that the country's population would double every 20 years. the 19th century. (He does not have.)
Another topic that fascinated Father Grassi was the national government's plan to distribute land widely to "industrious settlers." Land was cheap and easily accessible to those who cleared forests, sold timber, planted crops, and paid back loans for the purchase of self-contained acreage. As he explained, "This is one of the main reasons the American population is growing at such an excessive rate."
In polling the people of the nation, Father Grassi recognized "republican behavior", which appeared to be a spirit of independence, of impulse and of strong resistance to submitting to another. Even more remarkable, he observed, was "greed for profit" among Americans; it existed just like their industriousness. The people of New England were the most money conscious, he wrote, and were "considered the most cunning and the most intelligent, capable of ingenious deceptions."
Father Grassi also deplored the prevalence of duels, the large number of sects, "negroes held in slavery" and the prevalence of unlimited freedoms. He found it very ironic that Americans exuberantly praise freedom, but at the same time buy and sell human beings. Adding to this anomaly, the very school he led held women and men in slavery, a fact now widely known. Georgetown University and the Jesuits are now looking for ways to make amends for their detention of slaves. Father Grassi, however, hardly seems embarrassed by this situation.
Freedom of religion surprised Father Grassi and prompted many comments. Although the government does not get involved in religious affairs, the Constitution also protects all religions and beliefs. The impartiality of the government extended to protect even Catholics, so long despised in England. He cited a case in New York in 1813 in which defense lawyers argued that forcing a priest to violate the seal of confession was to deny him the free exercise of his religion. While noting that many ministers preached anti-Catholic prejudices, Father Grassi praised the restraint shown by better educated Protestants. What dismayed this Jesuit, however, was the way sects were dividing and multiplying "every day" so that there was "a chaos of all kinds of heresies." It included a collection of generalizations on 10 major churches, from Congregationalists and Anglicans to Quakers, Dunkers (Brethren Church) and Unitarians.
Father Grassi marveled at the phenomenon of itinerant priests traveling great distances to serve scattered parishioners.
Father Grassi ended his work with an examination of the situation of the Roman Catholic Church in the United States. His role as superior of all the Jesuits in the country brought him into contact with priests, nuns and bishops, in particular Archbishop John Carroll of Baltimore. He marveled at the phenomenon of circuit priests traveling great distances to serve dispersed parishioners. These incessant travels, as well as the scarcity of clergy, however, left many priests alone. Father Grassi advised that these clerics could better dispel stereotypes of Catholics and anti-Papist bigotry through explanations that were delivered "in a gentlemanly manner, with patient and benevolent charity." American Protestants, he commented, were more receptive to Catholic dogma when they received explanations in this way.
Roberto Severino, professor emeritus of Italian at Georgetown University, translated and edited the volume. Its introduction and the foreword by Robert Emmett Curran provide valuable background on Father Grassi, including information on the priest's later life in the Papal States.
This gem of a book deserves a wide readership for its knowledge of the role of Catholicism in the early republic. Father Grassi's excitement of discovery permeates the volume. Most significant is this gentle Jesuit's recommendation that Catholic beliefs be explained with gentle charity, as this was the most effective way to dispel grudge and gain an audience. Nowadays, his advice points to a better way to achieve civic and social harmony instead of the polemics of renewed culture wars.
Learn more about America: