Would the Tory Cato Institute mouthpiece be the best advocate for children in Falls Church City?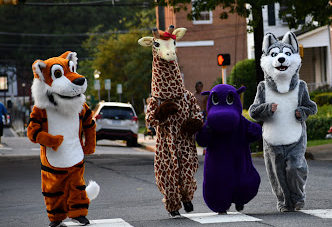 by Matt Adams, parent of Falls Church City
The recent national Conservative effort to requisition local school boards in response to specious culture-related grievances has happened in the "small town" of Falls Church.
The vice-president of the Cato Institute, Ilya Shapiro, is a candidate for the FC school board.
Who is Ilya Shapiro? What does he believe? If elected, would his choices promote the goals of the community? In a democracy, voters need to know what the candidates stand for.
In a recent letter to Falls Church News PressMr. Shapiro seemed to bristle as he tried to uncover his beliefs. His employer, the Cato Institute, formerly the Charles Koch Foundation, defends many views that many in Falls Church find repugnant. Shapiro has distanced himself from those views while selecting a few that are not backslid.
Don't be fooled. Mr. Shapiro is not an accountant in a gadget factory. He is the United States Supreme Court spokesperson for an intensely political organization that exists to influence the laws we all live under. Shapiro's job is to firmly defend Cato's views. Equally important and revealing: he chose Cato, and Cato chose him. Yet aren't Cato's opinions his own? Seriously?
When asked about specific issues, Shapiro deviated: his field is "constitutional studies". As if constitutional law were a circumscribed academic discipline, like the lepidoptera. Here are just a few examples of how Cato uses constitutional law: (1) to push for the privatization of schools, often seen as a cover to perpetuate racial segregation; (2) to attack minority voting rights – see the brief that Cato filed with the Supreme Court in Shelby Co. v. Holder; (3) strengthen the rights of firearms, in particular by defending the heinous hump-guns. Perhaps most tellingly, Cato peddles climate science denial. Check out their website. There is a long list of Supreme Court briefs, hundreds signed "Ilya Shapiro, official lawyer. "
But these aren't school board issues, Shapiro might protest. An easy objection. Thomas Jefferson Elementary and George Mason High School were recently renamed, a move that had racial implications. The climate could arise as the board examines schools' energy use and cleaner alternatives. School safety issues could arise because of all those guns that Cato so fiercely protects.
Shapiro's attempt to downplay association with his employer's opinions, where his full-time job is to defend those opinions, is fun. If that was all voters knew about Shapiro, that would be pretty unflattering, but, of course, there is more evidence of his opinions and maybe even his reasons for running for the school board in first place.
There is an old saying "tell me who your friends are and I will tell you who you are".
Thanks to public disclosures from Virginia campaign donors, anyone with an internet connection can see who donated money to Shapiro for the school board run. The list is… enlightening.
Campaign donations to Shapiro School Board for Falls Church were made by individuals associated as employees or contributing speakers or writers to each of the following organizations:
Federalist Society: Dedicated to ensuring that US courts are staffed with highly conservative judges with the right kind of … "integrity".
Caton Institute: Opposes climate science, public schools, gun restrictions, Wall Street reform, transparent elections, and campaign finance reform, among other positions.
Claremont Institute: Widely known for his early, continued and unabashed support for Trump, his promotion of electoral lies, his many ties to white supremacists.
Heartland Institute: Defends the fracking and tobacco industries and, significantly, is the leading US organization pushing climate change skepticism and denial.
Right to Work Foundation: Advocacy for the elimination of unions.
Local lobbyist for the Alberta oil sands: The tar sands, according to National Geographic, are "the most destructive oil in the world".
Crossroads GPS: A black silver swamp connected to Karl Rove.
Maricopa County, AZ, Election Recorder: Yes, the Recorder's office where the Arizona "audit" was conducted.
Friend of Heller: A claimant named in the United States Supreme Court decision District of Columbia v. Heller, which overturned the ten-year old gun law. Judge Scalia's ruling, an ode to the sanctity of killing devices, has been criticized left and right for its judicial hypocrisy. Cato has filed around 20 Supreme Court briefs asking for more gun rights. As I write these lines, news of another school shooting is making headlines. Behind the bangs and cries of guns, the sirens of the police and the ambulance, the deafening anguish of the new bereaved parents, I hear the gun advocates: "Sincere thoughts and prayers. As a line in the biography of a school board candidate, I haven't seen it yet, but who knows: "Proudly promoting more guns despite ever-increasing number of murder victims of children in mass school shootings. "
List of donors available from Virginia Public Access at: https://www.vpap.org/committees/380700/top_donors/?page=1
Some more interesting observations on campaign payments to Shapiro:
It is curious that in a local and apolitical school board, nearly three-quarters of Shapiro's contributions are large donations (over $ 100), and nearly half of them, including an individual donation of $ 5,000, come from outside the school board. State. To make sure he wins, to serve the kids, I'm sure.
Also curious: Shapiro's contributions to his own campaign seem to total exactly $ 0.00. In contrast, it appears that candidate Tate Gould is self-financing his entire modest campaign – $ 5,000.
Between the funding approaches of the two candidates, one suggests a candidate who, if elected, would not be tempted to make school board decisions that reflect the interests of a clique of very political funders from the outside the city. The voters of Falls Church now decide who will sit on the board, making decisions that affect their children and their community, deciding who represents their values ​​and beliefs.
I encourage them to vote with their eyes open and to spread the word.
– Matt Adams, parent of Falls Church City